The Small Company That's Certainly Big Enough!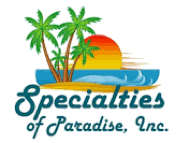 Every once in awhile you find a place online that surprises and amazes you. How can a website have a worldwide audience, yet have the personal involvement of real people? 
Specialties of Paradise is a collection of sites dedicated to bringing you Information and products that are not found just anywhere. We hunt for those things that bring more joy into life - from Key West and tropical products and 
memories to labor-saving products, from humorous items to great security services to unique tools and survival items. 
Les & Tami Moyer brings this collection of online sites as our way of making living more easy and fun! So, check out this guide to the growing family of service companies and online stores..
KEY WEST GOODIES online store carries products from or about Key West and the tropics. If you have visited Key West and neglected to get that perfect gift or the sweet reminder of your time here, we have the items that will bring smiles to your face! Natural and pet items are here. Don't forget our humorous products, too.
FIREHAWK TECHNOLOGY online store carries unique medium-tech products to save you time and money. You'll see items by Picquic, TowTabs, HoldsaBit, Engerts and more! See our comprehensive line of disaster prep items.
ADMIRALS LOCK & SAFE is our Key West Locksmith and Security business, providing product and services to best secure your home, business & organization. 
PIECES TO PERFECTION furniture and kit assembly service in Key West and the lower Keys. We'll build your purchased items that say…'Some Assembly Required'. We come to you with the right tools, experience and integrity.